Licence To Kill, Dvd Ultimate Edition (U.E.)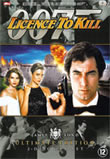 Wanneer de drugsbaron Franz Sanchez wraak neemt door een goede vriend van James Bond te verminken, neemt Agent 007 ontslag uit de Britse geheime dienst. Hij begint een persoonlijke speurtocht naar deze kille crimineel om hem voor eens en altijd uit te schakelen. Samen met Sanchez'sexy vriendin Lupe Lamora komt hij erachter dat het netwerk zich verder uitstrekt dan hij had verwacht. Deze keer vecht Bond niet voor zijn land of voor gerechtigheid, maar uit wraak.
Film:
Beeld:
Geluid:
Extra's:
Bioscoopversie
Eindelijk is nu de volledige versie van Licence To Kil te bewonderen. In de eerdere versies (ook op VHS) is er gerbuik gemaakt van een gekuiste versie waarbij enkele te groffe scenes werden geschrapt. Bij het remaster proces heeft men nu gelukkig weer de bioscooprelease als basis genomen.
Jaar van uitgave (dvd):
Regio:
Beeldformaat:
2006, 2-discs
2
Widescreen versie 2.35:1 anamorpic
Geluidsspoor:
Leeftijd:
Speelduur:
127 min.

(Met een * zijn nieuwe extra's in vergelijking met de S.E. versie)
Extra's disc 1:
Boekje (8 pagina's) *
Bond Ultimate Collection Trailer (1.27 min.) *
MI6 Commentary #1 *
MI6 Commentary #2
DVD Credits
Extra's disc 2:
Location Scouting With Peter Lamont (5.22 min.) *
On The Set With John Glen (4.16 min) *
Ground Check With Corkey Fornof (9.26 min.) *
Bond '89 (11.42 min.) *
Deleted Scenes met introductie van John Glen (+/- 9 min.) *
007 Mission Control *
Inside Licence To Kill – A Documentary (30.42 min.)
Production Featurette – Behind The Scenes (4.55 min.)
Kenworth Truck Stunt (9.30 min.)
"Licence To Kill" Music Video Performed By Gladis Knight (4.26 min.)
"If You Asked Me To" Music Video Performed By Patti LaBelle, (4.00 min.)
Theatrical Archive: (2-stuks)
Image Database: 11 verschillende galerijen