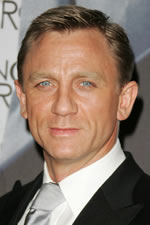 Daniel Craig Daniel Craig is geboren op 2 maart 1968 in Chester te Engeland. Hij groeide op in de stad Liverpool, waarna hij op zijn 16e verhuisde naar Londen. Hij studeerde af op de Guildhall School of Music and Drama en hierna sloot zich aan bij het National Youth Theatre.
Na wat toneelwerk maakte Craig zijn filmdebuut in "The Power of One" uit 1992, waarin hij de rol van Sergeant Botha speelde. Daarna volgt voornamelijk acteerwerk in dramaseries voor de Engelse televisie. Zo heeft hij een hoofdrol in de miniserie "Our Friends in the North" uit 1996 en een jaar later in de thriller "The Ice House".
Bij het grote publiek kreeg hij bekendheid toen hij rollen kreeg in twee grote Hollywood producties. De actiefilm "Lara Croft: Tomb Raider" en de misdaadfilm "Road to Perdition" van Sam Mendes. Later kwamen daar nog "The Layer Cake" bij en Steven Spielberg's "Munich".
In 2005 werd Daniel Craig op 14 oktober in Londen officieel bekend gemaakt als de nieuwe James Bond. Producent Barbara Broccoli was altijd al een fan van Craig en zag hem als de perfecte opvolger van de inmiddels te oud geworden Pierce Brosnan. In eerste instantie was er nogal wat ophef bij de fans vanwege de keuze voor Daniel Craig. Hij was te kort, te blond en we herinneren ons allemaal nog de manier waarop hij nogal overdonderd door de enorme aandacht van de pers binnengehaald werd (je zou het maar moeten doen trouwens). Inmiddels heeft hij alle twijfels weggenomen door zijn fysieke aanwezigheid en het belangrijkst: zijn sterke spel.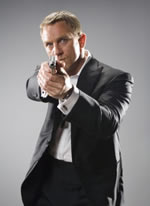 Zijn eerste film Casino Royale was een enorm succes en diens opvolger Quantum of Solace deed het in de bioscopen ook erg goed. In 2012 kruipt Daniel Craig voor de derde keer in de huid van geheim agent 007 in Skyfall, het 23e Bondavontuur. De film is geregisseerd door Sam Mendes, de man die ook verantwoordelijk was voor de regie van "Road to Perdition" waar Craig ook van de partij was. Voor Daniel Craig is Mendes dus een bekende en hij verheugd zich op de tweede samenwerking met de regisseur.
Daniel Craig had in 2005 aanvankelijk een contract getekend voor 3 films. In 2012 is zijn contract echter uitgebreid naar vijf Bondfilms. Daarna bekijkt hij per film wat hij doet. Producent Michael G. Wilson is in ieder geval zo tevreden dat hij het liefste zou zien dat Craig het record van Roger Moore (7 films) verbreekt.
Naast de Bondfilms heeft Daniel Craig inmiddels een imposante CV opgebouwd. Hiermee mag hij wel de meest bekende acteur onder de Bondvertolkers genoemd worden. Zo was hij onder andere te zien in "The Golden Compass", "Defiance" en "Cowboys and Aliens". Craig speelt ook in "The Girl With The Dragon Tattoo", de remake van de eerste film uit de succesvolle Millennium reeks en in "The Adventures of Tintin: Secret of the Unicorn" (oftewel de verfilming van Kuifje).
Bondfilmografie
Casino Royale (2006)
Quantum of Solace (2008)
Skyfall (2012)