Thomas Sean Connery is geboren op 25 augustus 1930 in Edinburgh, de hoofdstad van Scholtland. Connery kwam uit een arbeidersgezin en moest hard werken om aan geld te komen. Hierdoor begon hij al op jonge leeftijd in 1943 als melkman, zonder zijn schoolopleiding af te maken. Op zijn 16e melde hij zich aan bij de marine. Zoals velen die toen bij de marine kwamen nam ook Sean Connery een tatoeage. Connery liet twee tatoeages aanbrengen op zijn rechtervoorarm: "Mum and Dad" en "Scotland Forever". In zijn latere filmcarrière is soms goed te zien dat deze huidschilderingen gecamoufleerd werden.
Toen Connery in 1949 bij de marine ontslag nam deed hij na enkele andere baantjes gehad te hebben mee aan een Mr. Universe verkiezing in het begin van de vijftiger jaren. Dit leverde hem indirect een rol op in de theaterproductie "South Pacific".
Sean Connery werkte gestaag aan zijn acteercarrière en speelde voornamelijk in tv-producties met zo af en toe een klein rolletje in een film. Dana Broccoli, de vrouw van Cubby, merkte Connery op in de Disneyfilm "Darby O'Gill and the Little People" uit 1959 en raadde haar man aan om deze onbekende Schot uit te kiezen voor het spelen van James Bond. United Artists had zo zijn bedenkingen maar uiteindelijk kreeg Connery in 1962 een contract aangeboden voor het maken van meerdere films als geheim agent 007. Hij was toen 32 jaar en is tot op heden nog steeds de jongste acteur die de geheim agent gespeeld heeft.
Co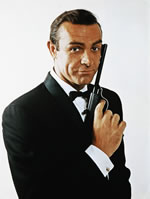 nnery had moeite met de enorme bekendheid en media-aandacht die de James Bond films met zich meebrachten en besloot om er na "You Only Live Twice" uit 1967 de brui aan te geven. De producenten wisten hem echter nog één keer over te halen waarmee "Diamonds Are Forever" uit 1971 zijn laatste Bondfilm is geworden. Hierna nooit meer, dacht Connery maar hij liet zich toch nog een keer verleiden om in de huid te kruipen van de geliefde geheim agent in de onofficiële Bondfilm "Never Say Never Again" (toepasselijke titel overigens).
Sean Connery heeft naast zijn zes vertolkingen in een Bondfilm ook in vele andere films gespeeld. In het begin bracht hem dit nog niet zoveel erkenning op maar vanaf "A Bridge Too Far" uit 1977, dat ging over de Operatie Market Garden in de tweede wereldoorlog, kon hij steeds meer zijn Bondimago van zich afwerpen. Zijn carrière nam een vogelvlucht in de jaren '80 waarin hij in de ene na de andere klassieker te zien was zoals "Highlander", "The Name of the Rose" en natuurlijk "Indiana Jones and the Last Crusade". In 1988 won hij een Oscar ® voor zijn vertolking van Jim Malone in "The Untouchables".
Ook in de jaren '90 speelde Connery nog in veel bekende films zoals "The Rock" of "The Avengers". Zijn laatste film "The League of Extraordinary Gentlemen" dateert uit 2003. Grappig genoeg heeft hij bedankt voor de rol van Gandalf in de Lord of the Rings trilogie omdat hij naar zeggen geen snars begreep van het verhaal! In 1999 werd Sean Connery door de Britse koningin Elizabeth II tot ridder geslagen, en mag sindsdien dus de titel Sir toevoegen aan zijn naam. In april 2011 kondigde zijn woordvoerder aan dat Sir Connery niet meer in het openbaar zou treden om te kunnen genieten van zijn oude dag.
Bondfilmografie
Dr. No (1962)
From Russia With Love (1963)
Goldfinger (1964)
Thunderball (1965)
You Only Live Twice (1967)
Diamonds Are Forever (1971)
Never Say Never Again (1983)     * niet officiële Bondfilm