De Boeken
Omdat het allemaal met de boeken van Ian Fleming is begonnen, volgt hier een beknopt overzicht over de auteur.
Ian Fleming (1908 – 1964)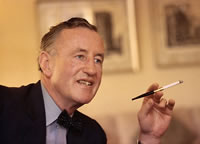 Ian Fleming is geboren in de Britse stad London op 28 mei in het jaar 1908. Hij heeft gestudeerd aan het Eton College en The Royal Military Academy Sandhurst te Surray. Hierna begon hij in 1939 aan een carrière bij inlichtingendienst van de marine. Deze ervaringen hebben ongetwijfeld bijgedragen aan de creatie van superspion James Bond. Een naam die overigens echt bestond. De echte James Bond was namelijk een Amerikaanse ornitholoog en auteur van het boek Birds of the West Indies uit 1936. Ian Fleming overleed aan de gevolgen van een hartaanval op 12 augustus 1964. Hij liet zijn vrouw Anne Rothermere en één zoon genaamd Caspar Fleming achter.

Het eerste avontuur van de Britse geheim agent dateert uit 1953 en was getiteld: Casino Royale. Op zijn vakantiehuis Goldeneye in Jamaica schreef hij uiteindelijk 14 Bond-boeken.
Alle boeken van Ian Fleming van James Bond:
| | |
| --- | --- |
| 1. | Casino Royale (Casino Royale) – 1953 |
| 2. | Live and Let Die (Moord onder water) – 1954 |
| 3. | Moonraker (Hoog spel) – 1955 |
| 4. | Diamonds Are Forever (Doden voor diamanten) – 1956 |
| 5. | From Russia With Love (Veel liefs uit Moskou/De moordkuil van het hart) – 1957 |
| 6. | Doctor No (Doctor No) – 1958 |
| 7. | Goldfinger (De man met de gouden vingers) – 1959 |
| 8. | For Your Eyes Only (Van een blik tot een moord) – Verhalenbundel – 1960 met de volgende verhalen: |
| | From a View to a Kill (Van een blik tot een moord)For Your Eyes Only (Voor uw ogen alleen)Quantum of Solace (De kwantum soelaas theorie)Risico (Risico)The Hildebrand Rarity (De Hildebrand rariteit) |
| 9. | Thunderball (Kalm aan, Mr. Bond) – 1961 |
| 10. | The Spy Who Loved Me (De spion die mij beminde) – 1962 |
| 11. | On Her Majesty's Secret Service (In dienst van Hare Majesteit) – 1963 |
| 12. | You Only Live Twice (Je leeft maar tweemaal) – 1964 |
| 13. | The Man With The Golden Gun (De man met de gouden revolver) – 1965 |
| 14. | Octopussy and The Living Daylights (Octopussy) – Verhalenbundel – 1966 met de volgende verhalen: |
| | Octopussy (Octopussy)The Living Daylights (Veel liefs uit Berlijn)The Property of a Lady (Om het bezit van een dame)007 in New York (007 in New York) |